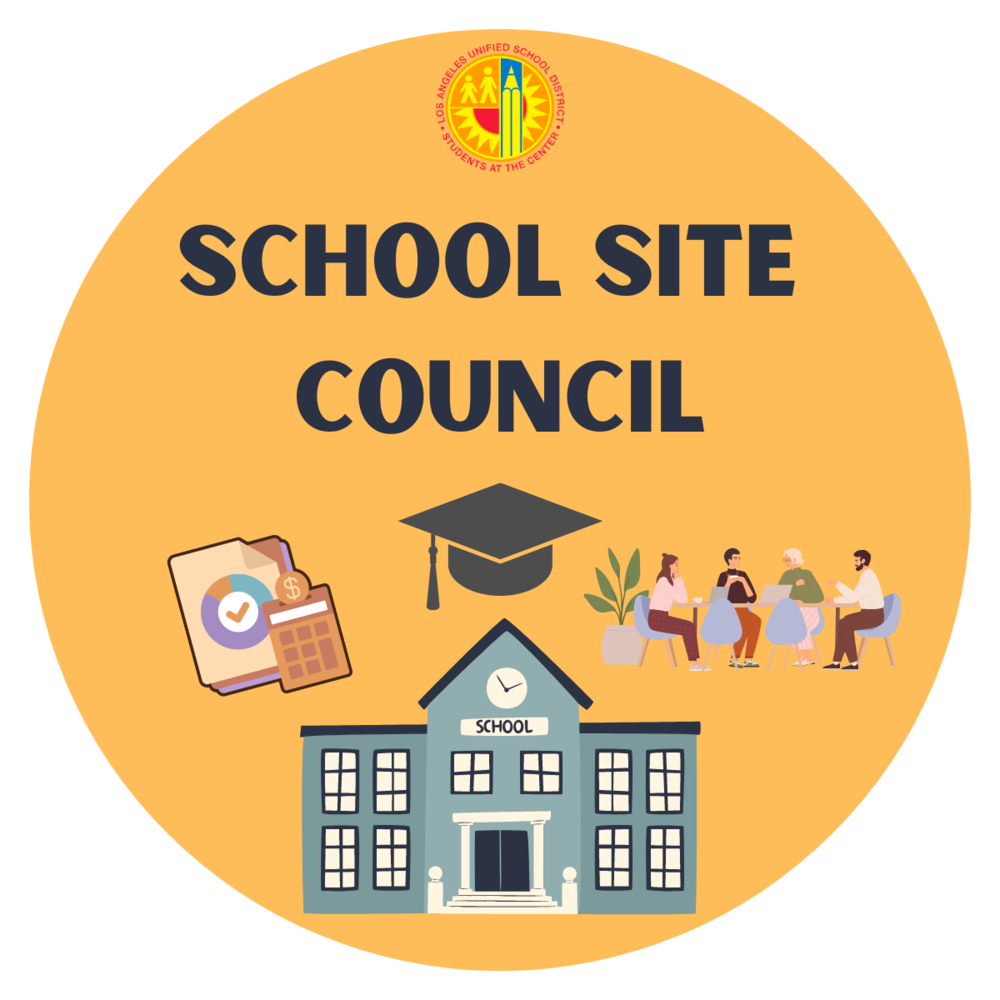 Hello South Lake Community,
Your child attends South Lake Middle School which receives Federal Title I funds to assist students in meeting state achievement standards. Much of the funding allocated to us through Title I is used for reducing class size, providing targeted supports for populations of students not meeting proficiency in state standards, and mental health and wellness supports. As a parent/guardian, you have the right to request information about the qualifications of the classroom staff working with your child. Please see our Parent Right to Know Letter to learn more about this. Prior to the start of the school year, we shared our Parent-Student-Staff Compact in our Data Confirmation process. Our partnership is vital and necessary to ensure all students make the academic, social, and emotional growth.    Our School Site Council (SSC) is a governing body that is made up of all stakeholder groups and provide input and feedback about how resources, including Title I funding, is allocated and prioritized. All parents/guardians are invited to attend SSC. We meet 4-5 times a year on Wednesday afternoons. The date for our first meeting is October 18th. By law, we are required to have 3 voting members on our SSC and hold an annual election to vote them in. Please take a minute to vote by going to the SSC Voting Ballot. We have three candidates running. Thank you!   As part of our Title I program, we will be offering a variety of Parent Engagement Activities which will be updated over the course of the year. If there are topics of interest not listed, please let me know and for any other information I can share about our Title 1 program at belindaaverill@iusd.org.    Lastly, we will be administering the Panorama Survey next week to all students. Panorama is a Social-Emotional Learning (SEL) screener. The Panorama Screener is a survey given twice a year to measure students' social-emotional learning (SEL). In grades 3-12, the student completes two self-reported surveys rating their own social-emotional competencies and their perception of how supportive the environment is. This data will be used to guide SEL planning with tiered interventions. Our first screening will be on October 5th in Homeroom.  Have a wonderful weekend…it's a great day to be a Shark!  Be well,
Belinda Averill Principal
Schedule for Week of  10/2 - 10/6
Monday 

Tuesday 

Wednesday 

Thursday 

Friday 

Anchor Day 

8:15am – 3:02pm

Bonus Period PE

Anchor Day 

8:15am – 3:02pm

Bonus Period PE

 

 

Odd Periods

Late Start

9:00am – 3:02pm

Even Periods

Late Start

9:00am – 3:02pm

Bonus Period PE

Anchor Day 

8:15am – 3:02pm

Bonus Period PE

 

 
South Lake Announcements & Information 
PTSA Information  A big THANK YOU to all who supported our Direct Donation and Membership Drive! We raised over $4,000 for the year and we currently have 60 PTSA members. It's never too late to donate or join PTSA! Visit www.southlakeptsa.com for more information. A big SHARK THANK YOU to all who came out to support our Shark Night Out at The Kebab Shop! We look forward to the next one!   Shark Shoppe is an incentive program for our students to use their Shark Cards. PTSA helps to keep it stocked. Our Shark Shoppe Amazon wish list has been updated with non-food items. Shark Shoppe Wish List   The Irvine Unified School District, the City of Irvine, the Irvine Police Department, Irvine Council of PTAs, parents and students will join forces to champion the Red Ribbon Week theme of "Be Kind to Your Mind. Live Drug Free." This year's National Campaign theme resonates with the District's dedication to fostering student mental health and well-being. More information forthcoming!
The holidays are right around the corner! 😬 Save 20% on all holiday photos, cards, and/or gifts when ordering through MINTED. Use our code FUNDRAISESOUTHLAKE and receive 20% off of your entire order AND Minted will give 15% to our PTSA. These funds are used for student activities and programs! WIN- WIN!
DEADLINE APPROACHING: This year's PTSA Reflections theme is: "I am hopeful because..." Students may submit an entry in any of the following six areas: Dance Choreography, Literature, Photography, Film Production, Music Composition, Visual Art. Only original works of art are accepted. Students may enter more than one work of art. Submissions due by 10/6/2023. Registrations forms are here: PARTICIPATION FORMS SUBMIT BY 10/6/2023 HERE: SUBMIT HERE 
Mental Health Training for Parents CHOC's Mental Health Education Program is beginning their first of four-education series including a parent component. The modules are sequential but is it not necessary to attend all to benefit from the shared information. The first topic is one of great relevance and is focused on: Depression, Anxiety, and Social Isolation. Depression, anxiety, and loneliness have been at an all-time high for kids these past few years. Learn about some of the most common challenges kids and teens face and how to overcome them. All sessions are presented LIVE on ZOOM by CHOC mental health professionals. If you miss a session, you can still join the next one!CAREGIVER/PARENT Training  TUESDAY, OCT 3rd 7:00pm What Families Need to Know TUESDAY, OCT 10th 7:00pm Skills and Strategies TUESDAY, OCT 17th 7:00pm Life-saving Resources To sign up, go to Free Mental Health Series for IUSD WellspaceEnhanced Math 7/8 Webinar IUSD will be hosting an Enhanced Math 7/8 Webinar on October 5th. The webinar will give you a brief overview of the Enhanced Math 7/8 course and the pathway implications as your student continues Middle School and enters High School. Our Math team will not be present to answer specific questions about your student. We highly recommend 7th grade parents to attend who want to learn more about the pathways moving forward. When: Oct 5, 2023 05:30 PM Pacific Time (US and Canada)Topic: Enhanced Math 7/8 Overview and Pathway Please click the link below to join the webinar: https://iusd.zoom.us/j/87893731266   IPSF UpdateVOLUNTEER OPPORTUNITIES AVAILABLE         Are you and your children looking for ways to give back to the community? Support for IPSF's mission comes in many forms, and we are so grateful for the passionate volunteers who dedicate their time throughout the year to help IPSF make a greater impact in our schools. Check out upcoming opportunities by clicking below. https://ipsf.net/get-involved/volunteer/#volunteer-opportunitiesSAVE THE DATE: TURN IRVINE ORANGE OCT 19  Wear orange Thursday, October 19 on IPSF Giving Day to show you value educational excellence in Irvine! Whether you are at school, work, or out in the community, rock your ORANGE to raise awareness about the importance of community support of public education! www.Ipsf.net/givingday 
Middle School Program (MSP) at South Lake If you are looking for great after school activities for your students, there are several upcoming events and classes to get involved with through our Middle School Programs hosted by the city of Irvine. Each of the flyers below have information about registration, cost and contact information. For more information, please contact Site Coordinator Karley Abeyrama at (949) 724-7190 or at KAbeyrama@cityofirvine.org.   Paper – Free Tutoring As your student is getting going with their academics, please know that IUSD offers Paper Tutoring, a free resource, giving your student 24/7 access to chat with tutors for live help and assignment support. Paper helps parents and guardians avoid the cost, time, and stress of having to relearn geometry and poetry or hire a private tutor to help their child with classwork. Paper can provide support with homework help, writing feedback (i.e. editing essays), and study support. Help is available in English, Spanish, Mandarin, and French. Students can access Paper Tutoring directly from their class Canvas Page. Some additional resources are this informational video on Paper Tutoring: Paper for Parents & Guardians and Paper Website: Unlimited Tutoring, Anywhere & Anytime.    Student Attendance It is important to make every effort to have your student in school and on time. While attendance and success in school are positively correlated and directly linked, there are times when a student should stay home and absences are necessary.
Illness - Please keep student home when they have any of the following signs and symptoms of illness: Fever (temp > 100.4), excessive runny nose, excessive cough, two or more episodes of vomiting in the last 24 hours, or an unexplained rash.
Mental health – a new California law states that absences for the benefit of the pupil's mental or behavioral health shall be excused (Ed Code 48205). After 5 absences, a doctor's note will be required. 
Doctor appointments
Court appointments
Funerals for immediate family members
We want to honor and support the mental and physical health of our students, and we also need to prioritize the importance of attendance both for student success and to ensure that IUSD receives critically important state funding for our schools. Please know that the School Attendance Review Board (SARB process) will be initiated, when a student accumulates 3 unexcused absences or truancies. If you have concerns about extended absences or if you have any questions about attendance, please don't hesitate to call. We appreciate your partnership in supporting the health, happiness, and academic achievement of our students. OCTA Youth Ride Free Program  The Orange County Transportation Authority (OCTA) is excited to announce the continuation of their "Youth Ride Free" promotional bus pass program.  This free youth pass allows youth ages 6 to 18 to ride all OC fixed-route buses every day for free.  Last year's orange/red Youth Ride Free passes expire September 30, 2023; the new purple/orange Youth Ride Free passes are valid now through September 30, 2023 and require a new Parent Request Form for each recipient.  For more information regarding the program visit: OCbus.com/YouthRideFree. To participate in the program, complete a new Parent Request Form, available using the below links, printed forms are also available in the front office.  Return the completed and signed form to the front office to be issued a purple/orange youth bus pass for the 2023-24 school year. 
Parent Request Form:

OC Bus Ride Guide – How to Ride: e-Vehicle Registration  Students will not be able to park on campus without a registration sticker. We will also be enforcing all rules and regulations covered in the IPD Safety Presentation. We will be scheduling a Safety Presentation in October for those needing to register their e-Bike. Bell Schedule  The 2023-2024 Bell Schedule includes all the minimum days and special schedules for the year.  Please make sure to review the start and end times for these schedules. Stay Connected Stay connected by checking your email for communication from South Lake and IUSD.  South Lake is also on Instagram @southlakemiddleschool and our website is at www.southlake.iusd.org. 
October 3rd – Mental Health Module 1 for Parents October 5th – Panorama Survey for students  October 5th – Enhanced Math 7/8 Parent WebinarOctober 6th – Reflections Entry Due